Products

Mr. N.M. Tejwani, after doing his graduation from Victoria Jubilee Technical Institute, Bombay in Mechanical and Electrical Engineering in 1959 and having gained experience in Chemical Plant Designing and further studies in East and West Germany, returned to India to set up, initially, a Plant known as Surface Coating Industry Pvt. Ltd. at Bombay. Having acquired thus total confidence in this process, ventured out to establish 'INDO GERMAN ENGINEERS, INDO-GERMAN INDUSTRIES and lately S.R.R. INDUSTRIES & KARISHMA INDUSTRIES.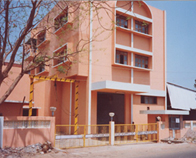 Today, the company manufactures wide range of Plant and Machines for Paint, Printing Inks, Varnish, Resin, Pigments, Dyes, Chemical Process Industries etc.

The products are so designed that it meets any international standards, exclusively because the techniques are based on German Technology, which is quite advanced. Our products have the approval of the manufacturers not only within the country but also abroad. The reputed organisations like M/s Asian Paints, Berger Paints, Micro Inks, Ciba, Fuji Film, Technova Imaging, Sakata Inks, Carboline, Eco-Per Croatia, Dr. Beck, Philips India Ltd., Kankoo Paints, BARC, BASF, Kansai Paints(Nerolac), Sudarshan Chemical Industries Ltd., Hempel Paints, Wyeth Lederle ltd. and many other reputed industrial establishments are our esteemed customers.

It should not exaggerate when we mention here that after having come into existence, we have given birth and rise to nearly 500 medium and small scale industries.

Due to Excellent Quality Control and Good Services International Award From Spain was conferred to Mr. N. M. Tejwani in the year 1992. Also not to exaggerate our company has won more than 8 Awards from the Government of India.

Our machines are exported to many countries like Australia, Bangladesh, Croatia, Dubai, England, Fiji Isand, Ghana, Indonesia, Japan, Nigeria, Nairobi, Pakistan, Singapore, Thailand and many such countries around the globe.

Our Company has inbuilt various small machines for laboratory trials to be conducted by the customer in our factory. The final results are sent back to the customers for verification and based on further discussions bigger capacity machines can be offered with excellent design and quality control.

Testing of offset ink on 4" x 8" Mechanical Triple Roll Mill